Mama Miria Excties Mubende
From NEW VISION January 21, 2006
By Apollo Mubiru and Geresom Musamali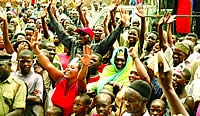 EXCITED
Residents cheer Miria Obote as she delivers her speech in Mubende town
UGANDA People's Congress (UPC) presidential candidate Miria Kalule Obote launched her campaign in the Buganda region on Thursday, with a rally at Kasambya, Mubende district.
However, some people who turned up for the rally at Kasambya abandoned it after a green military pick-up truck, DOIDF 004, with nine soldiers atop drove past. Miria did not comment on the incident.
A fleeing woman said she feared the soldiers would cane her for attending the rally.
The Uganda National Liberation Army (UNLA), under the UPC government of 1980-85, fought the National Resistance Army (NRA) in Mubende, a part of the Luweero Triangle.
Miria criticised the symbols for the other parties as she explained the meaning of her party's open-palm symbol. This was after some people flushed the NRM and FDC symbols.
"When I come to you, I come with an open hand. When you are greeting your friend, you use the palm. It is a sign of peace," Miria said.
She described the NRM 'thumb-up' sign as a symbol for war.
"What I know about the thumb is that it is used for killing fleas, bedbugs and lice. You cannot use the thumb to reconcile with anybody you wronged. Because it is a symbol for war, that is why the northern war has not ended," she said.
"Others will come with a V (the FDC symbol of two fingers). That is just a makansi (pair of scissors). A makansi can only cut, kata kata kata, but it cannot sew back the cloth," she said.
On the Democratic Party symbol, she said, "Some people come waving a fist at you. We are not interested in fighting each other."
At Mubende Market, huge crowds turned up to listen to her. Police struggled to keep the audience away from the podium in the fully-packed market square.
She appealed to people, especially the women, to vote for her.
"Fellow women, I am a mother like you. This is the only chance you have to vote for a woman president who will have your problems at heart because nowadays, there are many widows and orphans who need to be assisted," she explained.
On her way back to Kampala, Miria excited roadside sellers at Biwanga by buying their mangoes.
She later addressed a mini-rally at Kiganda Market at 6:33pm, and at Kigalama at 7:00pm.