Mama Miria Kalule Obote Nominated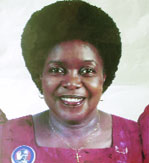 Mama Miria Kalule Obote, the president of Uganda Peoples Congress (UPC) was on Thursday December 15, 2005 nominated as a presidential candidate for the 2006 presidential elections in Uganda. Mama Miria Obote is the flag bearer for UPC in the presidential race. She is expected to give President Museveni a tough challenge leading to UPC victory in 2006.
Mama Miria Kalule Obote is the first Ugandan woman to lead a major political party, the Uganda Peoples Congress (UPC) in Uganda. With her nomination, she becomes the first woman ever to enter the race for the top job of President of Uganda.
Mama Miria Obote, a favorite of many Ugandans and party members, is the widow of the late former president Apollo Milton Obote, who died in October this year.
Mama Miria Obote was born on July 16, 1936 to Mr. Blasio Kisule Kalule and Ms Malita Kalule of Kawempe, a Kampala suburb. She was educated at Gayaza High School from where she joined Makerere University for intermediary studies. She got married to Dr. Apollo Milton Obote on November 11, 1963 in an elegant and state of the art ceremony.
Her late husband, Dr. A.M. Obote was president of Uganda and was overthrown twice by the Army in senseless Military Coups that were sponsored by enemies of Uganda. Mama Miria lived in exile twice with her husband (First from January 1971 to May 1980 and then from July 1985 till she returned to Uganda in October 2005 as the head of the cortege bringing her husband's body from South Africa, via Zambia for burial at his ancestral home in Akokoro in Apac.
After the death of her husband, several party members begged for Mama Miria Obote to present herself as a candidate to replace her late husband as leader of UPC. The calls for her to lead the party became louder when members of UPC in the Diaspora endorsed her as their choice even before she accepted the challenge of carrying the UPC mantle. She was elected President of UPC and the presidential candidate for the party in a free and fair election on Monday November 28, 2005 amid joy and celebration by members of UPC at the UPC delegates Conference in Kampala. She was elected with 280 votes while her closest challenger, Patrick Mwondha scored 147 votes and Aggrey Awori scored 12 votes.
Mama Miria Obote has today December 15, 2005 launched the UPC Manifesto for 2006 campaigns. She will be touring the entire country articulating the UPC message to Ugandans in the next few weeks. With the massive support that UPC enjoys in the Grassroots in Uganda, Mama Miria Kalule Obote is expected to be elected the next president of Uganda in 2006 if the election exercise is free and fair. She enjoys support from all corners of the country. To support Mama Miria Obote in her efforts to liberate Uganda and restore dignity to Governance in Uganda, please donate generously to UPC. To make your contribution, please contact George Okurapa for further details at Okurapa@upcparty.net.
LONG LIVE Mama Miria Obote!!!! LONG LIVE UPC!!!!
George Okurapa
Manager/Administrator
UPC Website/Network