Violence, rains mar eastern polls
From MONITOR TEAM
Reported by Isaac Mufumba, David Mafabi, Ahamed Wetaka & Augustine Emojong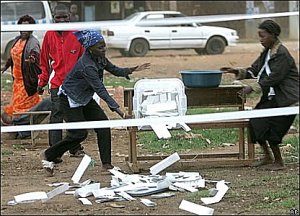 A heavy morning downpour and violence disrupted voting in some parts of eastern Uganda.
At Mutoto TCA polling centre in Bungoho, Mutoto Sub- county, voters got enraged and refused to cast their vote over a missing ballot box. The Electoral Commission provided for three ballot boxes; two transparent and one metallic. The Mbale district Chairman, Mr Bernard Mujasi and the Returning Officer, Mr Salim Kazindo, tried to persuade voters but in vain.
In Kaberamaido, Soroti, Mbale, Ngora and Serere voting was postponed until 10 am due to rain. However, the new polling centers created confusion as some voters kept moving from one polling station to another searching for their names on the register.
Mbale
In Mbale, the election offences desk registered assault cases involving Bungokho South MP Michael Werikhe and Mr Wilfred Kajeke, the Youth MP for Eastern, now standing in Mbale municipality. Werikhe and Kajeke, who were involved in a violent scuffle, which led to several injuries and car damage, were taken to police to record statements.
The police in Mbale also impounded a Mercedes Benz UAE 949U after a spear and a catapult was found in it. In another incident, there was confusion in Bungokho South constituency when it was discovered that four ballot boxes had gone missing. Police mounted a search but in vain.
Tororo
In Tororo Municipality, the Presidential Assistant for Legal Affairs, Mr Fox Odoi, fired bullets, assaulted people and hunted down suspected Kenyans, who turned out to be Ugandans. Odoi also beat up a Daily Monitor reporter John Augustine Emojong, injuring his right eye.
Emojong said he was coming from Tororo County when he met soldiers and police beating up people in the municipality. He tried to capture the incident with his camera but Odoi, wearing the yellow T-shirt and carrying a gun, pounced on him and beat him up.
"Odoi grabbed my camera and phone," Emojong said. "They bundled me onto a pick-up with other people. They took me to Tororo Central Police station. And it took the intervention of Tororo county MP Geoffrey Ekanya to release me."
Soroti
In Soroti, Serere MP Charles Koluo was arrested for allegedly bribing voters to vote for NRM's Yoweri Museveni. By midday he was still being held at Serere police post. In Kobuin village Ngora County, a one Oluka, an agent of Dr Francis Epetait, the incumbent MP, was beaten during the night and left for dead. In another incident, a man identified as Latif with other unidentified passengers traveling in a Toyota Prado went to Kobil-Gweri polling station and made off with all the ballot papers. At midday, the station had no election materials.
Moroto
In Moroto, police are holding 16 NRM supporters over allegations of bribing voters. The men were arrested at Kamuswahiri in Moroto municipality. Polling agents for DP, UPC and Abed Bwanika were absent at most of the polling stations in eastern Uganda. In contrast, the NRM and FDC had agents at every polling station. They braved the heavy downpour in the region to keep an eye on the polling exercise.
Busoga
In Jinja, there were a few hitches arising out of the absence of voters on the register and the transfer of voters to new polling stations. In Kamuli district, voting started an hour late because voting materials for some polling stations were taken to different polling stations.
Even after the anomaly was rectified a heavy downpour broke out at around midday, forcing polling stations to suspend business. Still in Kamuli, police yesterday impounded two vehicles and arrested nine people believed to be supporters of FDC's Salaamu Musumba for allegedly intimidating and bribing voters.
Masaba
Similarly, two men believed to be NRM supporters were arrested at Buyaga Polling Station in Sironko district with Shs2 million, which they were allegedly using to bribe voters for one MP and President Yoweri Museveni. Police have registered about 11 other cases of violence and voter intimidation.
Meanwhile, tempers flared at Buyobo polling station in Budadiri West constituency when voters discovered that ballot papers for the presidential vote were less by 200. In Manafwa, there was a commotion when the polling officer decided to use the black box for the presidential votes and the transparent boxes for the MPs. Police had to intervene to restore order.
In Mayuge, angry FDC supporters nearly abandoned the exercise in protest when the EC printed ballot papers depicting their party's candidate Abdallah Kasakya as a DP member.