UPC Re-born in Eastern Uganda
By Richard Kavuma
WEEKLY OBSERVER
Article Published on: 29th December 2005
Standing under a mutuba tree at Bukooli College in Bugiri, two boys - Mawamba Atim and Binuma Jamali - looked anxiously in the road beyond the play ground. It was 10.40 a.m.
"We have come to see what is here," said Atim, 11.
So, what is here?
"They said that Obote's wife is coming," answered Jamali, 11, as the dee-jay finally managed to play some music.
"Nebw'olikola otya, wampisa bubi nange ne nkukyawa," sang Juliana Kanyomozi (whatever you do, you won't woo me back; you treated me so badly and I threw you out).
Obote's Footsteps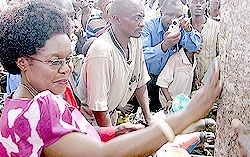 Miria touches the tree Milton planted in Bugiri in 1985. Bukooli was hosting the first rally of Uganda People's Congress presidential candidate Miria Kalule Obote. It was here that Miria's husband and former President Milton Obote held his last rally before he was overthrown in 1985.
Since President Museveni captured power in 1986, he has consistently equated UPC and Obote to killers. Children born then are now 20, and presumably that is all they know about UPC.
For a while, therefore, it seemed understandable that 20 of the 34 classroom desks, and 80 of the 100 plastic chairs were empty. Yet as Atim and Jamali proved, Miria Obote, 69, would be the crowd puller.
In fact, as the campaigns pick up, Miria appears to be striking the right balance between her personality as Obote's widow and as a flag bearer for the party that reveres her fallen husband.
As Milly Mukama placed a bouquet of red flowers on the table intended for Miria at 11.24 a.m., a sudden gust of wind struck the murram road 100 metres way, churning up a spiral cloud of dust.
"Did you see that?" one woman asked another. "Obote's ghost just passed."
The same thing happened two hours later, as Miria touched the tree Obote planted here.
One of the main attractions was the free-dancing mzee Azimafeesi Wagonda, 75, wearing a 1962 red party shirt with blue and black pocket strips. And there were many here and at other rallies, who looked like pages from a UPC history book.
In Tororo, for instance, Sakayo Itulya, 82, brought along an old red-black flag of the Uganda National Congress (UNC) from which UPC emerged in 1959.
"Today is a historic day; it is the day of resurrection of UPC in Busoga,"
Robert Kanusu, the emcee in Bugiri had summed up the atmosphere.
By the time Miria arrived in a silver-grey Toyota Land Cruiser at 1.30 p.m., the venue resembled a village wedding just before the arrival of the bride and groom.
With her were UPC vice president Livingston Okello Okello; her son and personal assistant Jimmy Akena; area MP Patrick Mwondha; party treasurer Badru Wegulo, and interim spokesman Joseph Ochieno, among others.
"oh oh oh Maama, na UPC, congress party of the people," the over 1,000 people chanted and danced. Mawamba, other boys and men, climbed up the trees or stood precariously on their bicycles to see Miria.
It was a pattern that would repeat itself up to Butaleja district; people stopping the convoy and asking: "where is Miria? Maama aliwa? Miria aliwa?"
At Bugiri, a poster was beheaded in a scramble: a middle-aged man smiled at Miria's head while his younger rival kept the torso.
And at Busolwe, 10-14 year-olds knocked down an old man as they fought over portraits Miria's party threw out of their vehicles.
With all this, Miria's body language, demeanour and strong voice started showing a woman growing in self confidence.
When a party leader in Bugiri referred to her as "our next president," Miria half-smiled, half-laughed, amid thunderous applause. By the time she addressed a sizeable crowd at Tororo Lions Park the following day, she had learnt to wave to such endearments, dance to UPC songs and hug adoring women.
Miria the mother
Emotion, sentiment and history are critical to Miria Obote's candidature. Every rally has a moment of silence to honour Obote. In Bugiri, Miria paid a visit to the widow of murdered UPC minister Shaban Nkutu, and expressed sympathy to the Busoga Kyabazinga, who recently lost his wife.
From Bugiri to Busolwe, she has been thanking people for their sympathy following Obote's death, and presenting herself as "the mother" and women's candidate.
"When mzee and UPC went, you remained like orphans," she said in Bugiri. "But now I want to reassure you. Don't lose courage. One parent remained and here I am. I will mother you. I am here for you."
She also, indirectly, attacked President Museveni's perceived war politics. We women, she said, want peace, not war.
"When your son dies in war, you cry till you die; when your husband is killed, you the mother must raise the children alone. And now you must pay reparations over dubious wars," she said, referring to the DR Congo, which Uganda was recently found guilty of invading and looting.
From Bugiri to Busia, Miria's nine-vehicle convoy took a bumpy ride on murram, greeting supporters in Bukooli South and North, as well as Samia Bugwe South and North constituencies. But she does not have an open-roof vehicle, so the question 'where is Miria?' continued, even as she waved from her seat.
Busia, through which Obote fled Uganda in 1985, had hundreds of people, although not all may have been UPC supporters.
At one time, while talking about unity, Miria said, "one Uganda, one country", to which youths in one corner chorused "one people". Missing the intended pun, she repeated, "one people" drawing laughter. She did not realise that she had literally uttered the FDC slogan of One Uganda one people.
Otherwise the message was the same. They should vote not just for her but for UPC candidates in Parliament and local councils.
"We have given you Awori," echoed the crowd, suggesting that area MP Aggrey Awori's seat is secure.
UPC record
Sometimes Miria Obote came across as a woman basking in her late husband's success. In the Congress anthem, supporters have quickly replaced 'Obote' with 'Miria Obote', creating, for instance, a line that runs: "Miria Obote, the founder of Uganda".
UPC is telling Ugandans that Obote built 23 hospitals, many schools, roads and industries, and Museveni has hardly added anything of the same quality. So when Miria visited Tororo Hospital on Friday, attendants abandoned their patients to sing and dance for her.
"I am told that in the old days patients used to be collected from villages by ambulances, now some are carried on wheelbarrows," said district youth leader, Juliet Nyawere, a jobless teacher.
Minutes later, a young man was panting into the hospital compound, carrying an elderly man like he were a baby. "See how stretchers work," one party activist remarked.
Miria kept a motherly smile inside the wards, as frail patients attempted to wave back at her. "I had never seen her," said Rose Amoit, attending to her chest-ailed father. "I am happy with the promises that there will be medicine in the hospital. After all they are the founders of these things," she said.
At Mulanda, Miria laid an improvised wreath and promised to build a memorial on an alleged mass grave for up to 200 UPC supporters allegedly killed by government soldiers around 1988. The dead were reportedly accused of being rebels of FOBA (Force Obote Back Again).
As the convoy drove into Busolwe, where a large crowd had waited for hours, a middle-aged woman striding towards the road asked: "Miria aliwa (Where is Miria)?"
---
Upcoming UPC rallies
Date
Venue
Dec.29
Kumi (morning)
Soroti (afternoon)
Dec.12
Katakwi & Moroto
Dec. 31
Kotido
Jan. 1, 2006
Otuke & Lira
Jan.2
Kyoga & Apac
Jan.3
Pader & Kitgum
Jan. 4
Gulu
Jan. 5
Pakwach & Nebbi