Member Profiles
Dr. Olara A. Otunnu
President, Uganda Peoples Congress-UPC (2010 - 2015)
Elected as Party President March 2010.
---
Uganda Peoples Congress National Leadership Team 24th March, 2010
Party President
Olara A. Otunnu
Vice President


Secretary Genral
Mr. Joseph Bossa
Assistant Secretary General
Mr. Emmanuel O. Ofumbi
Spokesperson


Deputy Spokesperson
Mr. Moses Nuwagaba
Party Chairman
Maj. Edward Rurangaranga
Party Vice Chairman
Rev. Fr. Jacinto Ogwal


Regional Vice Chairpersons
Westnile
Hon. Dr. Moses Tako Apiliga
Northern
Mr. Julius Ocen
Eastern
Ms. Rebecca Ereemye
Central
Mr. Henry Mayega
Mid. Western
Mr. Matiya Kisembo
South Western
Mr. Ndiwa Ndikora


Regional Mobilization Coordinators
West Nile


Northern
Mr. Paul Ogwal Olule
Eastern
Mr. Michael O. Osinde
Central


Mid Western
Mr. John Mary Kato
South Western
Mr. Gideon Twinomugisha


National Party Treasurer
Mr. Peter Mukidi Walubiri
Assisatant National Treasurer
Ms. Winifred Adio
Leader Of People With Disability
Dr. Apollo Ekibo
National Workers Leader


National Women Leader
Mrs. Ruth Masika
Deputy National Women Leader


Women's Leadership Council
Coordinator
Mrs. Margaret Ateng Otim
(Membership To Be Confirmed….)


National Youth Leader
Ms. Cecilia Anyakoit
Deputy National Youth Leader
Mr. Emmanuel Rukundo
Youth Leadership Council
Coordinator
Mr. Robert Kanusu
(Membership To Be Confirmed….)


The UPC Council Of Elders:
Chairman
Justice George Masika


Mr. Silvano Esiagi


Mr. Samwiri Mugwisa


Mrs. Mary Tiberondwa


Mr. Zaberio Byabagambe


Mr. Andrew Nyote


Mr. Nasur Ogwang


Maj. Edward Rurangaranga


Mr. Dick Nyai


Rt. Rev. Bishop Cyprian Bamwoze


Office Of The President
Special Presidential Envoy
Hon. Ross Euku
Special Presidential Envoy
Mr. Chris Opoka Okumu
Special Presidential Envoy
Mr. Patrick Mwondha
Special Presidential Envoy
Hon. Yonnasani Kanyomozi
Special Presidential Envoy
Mr. Sospater Akwenyu


Party Secretariat
Chief Administrative Secretary
Mr. Waagonda Muguli
---
Mama Miria Obote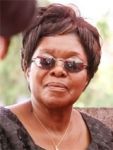 President, Uganda Peoples Congress-UPC (2005 - 2010)
Some Speeches of the First Lady of Uganda Mama Miria Obote
7th March, 1985 City Hall Kampala
12th September, 1984 International Conference Center, Kampala.
16th October, 1984 Masaka, Uganda
---
Dr. A. M. Obote
Party Founding Father, Uganda Peoples Congress-UPC
Born December 28, 1925
Died October 10, 2005
In 1958 Dr. A.M. Obote was elected to the legislature
In 1959 Dr. A.M. Obote became head of UPC
In 1962 Dr. A.M. Obote becomes Uganda's Prime Minister
In 1966 Dr. A.M. Obote becomes President of Uganda
In 1969 Dr. A.M. Obote survives an attempt on his life at Lugogo
In 1971 Dr. A.M. Obote's Government was overthrown by military dictator Idi Amin
In 1980 Dr. A.M. Obote returns from exile and was elected president of Uganda
In 1985 Dr. A.M. Obote was overthrown by the military and forced into exile in Zambia
On Monday October 10, 2005 at 4:30 PM, Dr. A.M. Obote died of kidney failure in South Africa where he had gone for a routine medical check up.